Strategy and Programs
Since 1928, AARS has served American Rhodes Scholars and facilitated building connections, sharing experiences and extending perspectives. Publishing The American Oxonian, supporting the Rhodes Scholarship and the Eastman Professorship, receiving tax deductible contributions for Oxford institutions and reaching out to other Oxonians have been a part of the AARS strategy from the beginning.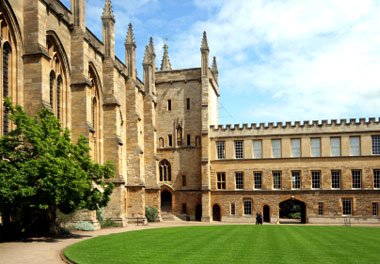 Background. Evolving member interests and needs have required new strategies and programs.
As transportation to Oxford changed, AARS instituted during the early 1990's a Bon Voyage weekend. This enables the newly elected Scholars to get to know each other before they arrive in Oxford, to be welcomed into the broader Rhodes community and to meet Rhodes Scholars in public service.
With renewed interest in national reunions, AARS hosted national reunions in 1993 and 2005 in partnership with the Rhodes Scholar Associations of other countries.
In 2002, the AARS organized a Women's Reunion to commemorate and reflect upon the 25th anniversary of the election of the first women Rhodes Scholars.
AARS members supported the Rhodes Trust with its Centenary celebrations in South Africa (2003) and in London/Oxford (2004).
Current Strategies. At its April 2007 meeting, based on the results of a AARS membership survey, the Board endorsed a strategy built on three pillars:
Upgrade the website to enable members to connect more easily, access Class Letters, directory and other Rhodes information readily, and handle financial transactions more conveniently.
Strengthen and activate connections within the Rhodes community

Beginning with events specifically focused on Scholars returning from Oxford to pursue the next phase of their development;
Supporting reunions and other common interest events through seed money for planning, "best practice" resources, and expanded committees to work with classes and interest groups;
Enhancing mentoring and career development opportunities.

Build the technical capabilities and capacities to support the upgraded website and expanded events.
Status Report (as of June 2008). We are making progress in each of these areas. On November 26, 2007, we launched our new, upgraded the website with the help of Janice Ugaki (UT & St. Antony's '93) and her company Firmseek as well as several members of our Website Committee and an ad hoc advisory group. We organized and held a major event—the Alain Locke Symposium with Howard University in September 2007, complemented by a special issue of The American Oxonian remembering Alain Locke. We also hosted a reception in Los Angeles honoring a Rhodes Trustee and a reception in Pittsburgh with the 2007 District IX Rhodes Scholar Selection Committee and local alumni. Four class reunions (1957, 1967, 1981 and 1997) were held around the country. Finally, our effort to build technical and administrative staff support led us to an association management company and then back to Vienna when it became apparent that the support we sought would be too expensive. The financial position of AARS, however, is very strong and continues to grow. Thus, this year (2008) we have offered to assist classes approaching a milestone year; we will reimburse those classes up to $1,000 for documented expenses connected with a classs reunion of 10 or more members. Finally, we continue to reaching out beyond the Board for participation on various committees.