Rhodes Scholars Stepping Up Globally During the COVID-19 Pandemic
Dear Scholars and friends,
The traditional saying is that a picture paints a thousand words. In this instance, it is a map which speaks of a hundred stories of impact.
The Coronavirus pandemic has reinforced what we already knew – Rhodes Scholars step up to serve others. Across geographic and disciplinary borders, Scholars have been collaborating in research, clinical care, journalism, community volunteering, philanthropy, and a myriad of other ways to tackle the hugely difficult challenges of this global virus. Click here or on the map below to read some of these remarkable profiles.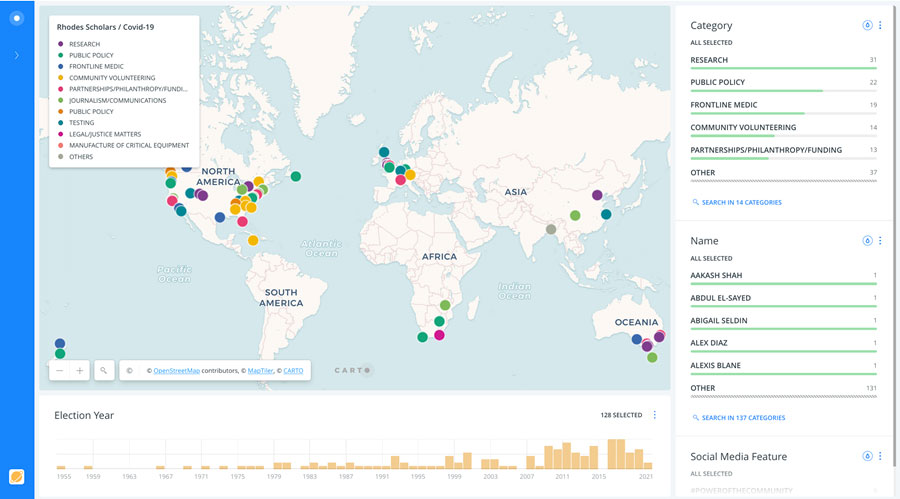 Through this digital tool, we have been able to connect in real time Rhodes Scholars and Fellows from our partnership programmes who are seeking or offering collaborators, research partners, advice, contacts, or resources.
We would like this map to be as comprehensive as possible, and know there are still more stories out there! If you are involved in COVID-19 response on the local, regional, national or international level, we would love to add you to the Google Sheet which feeds into both this public map and the collaborative projects. Please email our Director of Communications Babette Littlemore. We have also set up a group on the Rhodes Scholar Network for people to join to discuss these efforts.
Recent contributions to the map have focused on artistic responses, online sharing of resources for home schooling, and community food initiatives. This underlines one of our core principles, that there is no one way to lead or serve. Just as there is no cookie cutter Rhodes Scholar, there also isn't a single 'correct' response to difficult times. We are each called to respond to the world's challenges in the ways that sit right with us, and draw on our unique personal story and skills. I wish you all the very best with your ongoing efforts!
Best wishes,
Elizabeth

Dr Elizabeth Kiss
Warden & CEO of Rhodes House
The Rhodes Trust provides the Rhodes Scholarships in partnership with the Second Century Founders, John McCall MacBain O.C. and The Atlantic Philanthropies, and many other generous benefactors.