David Quammen: The Ebola Outbreak: 'A Dress Rehearsal For The Next Big One'
NPR Staff
NPR
Until this year, the world had recorded 1,640 deaths from Ebola since the virus was discovered in 1976.
Then Ebola appeared in West Africa.
So far this year, 887 people have died of Ebola in West Africa, the World Health Organization said Monday.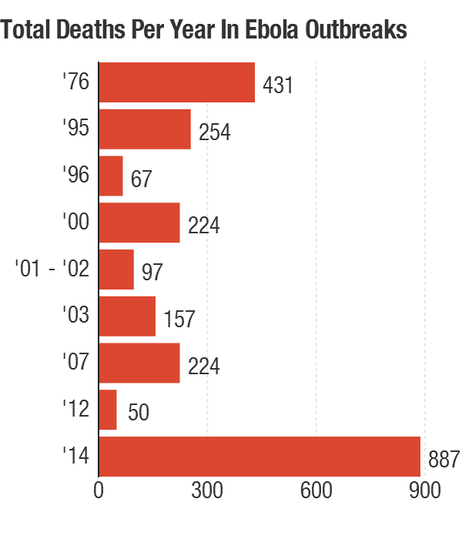 The graphs include only years in which 50 or more Ebola deaths were reported.
Linda Poon/Data from the World Health Organization
To put that into perspective, more than a third of all people known to have died from the Ebola virus have died in the current outbreak.
And the outbreak is still spreading at a frightening rate. Last week, there were more than 200 new cases reported across four countries.
To find out more about the origins of Ebola — and what may lie ahead — we talked to author David Quammen. He wrote the bookSpillover, which traces the evolution of Ebola, HIV and other diseases that move from animals to people.
Here's an excerpt from our conversation, which has been edited for clarity.
See full article and listen to audio here.
Scholars