40th Reunion for Class of 1967
Announcement: Friday through Sunday morning, October 5- 7, in Boston...catch-up, reminisce, relax and celebrate! Includes Friday dinner at the Fredericksons; Saturday discussion and lunch by Bill Clendaniel at Mount Auburn Cemetary; Saturday night dinner and a comedy show; and Sunday bruch at the Campions. For more information, contact Michael Frederickson at m.fredrickson@massbbo.org
Report: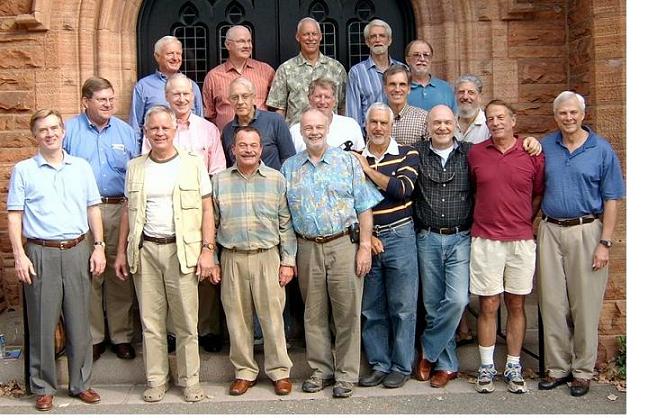 Classmates and friends at Mount Auburn Cemetery . Front row, l to r, Bock, Randolph , Pascoe, Fredrickson, Katz, Forman, Schaffran, Alexander. Second row: Hardesty, Oxman, Pedersen, Abbot, Allen, Isaacson. Back row: Schaper, Price, Clendaniel, Stocking, Harrod.
The Rhodes Scholar Class of 1967 held its 40th reunion in Boston , MA , October 5-7, 2007. Nineteen members of our class were in attendance – a hearty number considering the passage of time and the scattering of residences and families over the years. Several spouses, partners, and special friends were also on hand. Naturally, a very, very good time was had by all.
The reunion began on Friday night at the home of Mike Fredrickson and Jolly Tager in Watertown . (One of the joys of the weekend, in addition to the company of the assembled and the unseasonably warm weather, was the challenge of finding the appointed gathering place at night despite the availability of copious directions, maps, GPS systems, cell phones, etc. But none of this mattered. Half the fun was in the deep conversations that took place while wrong turns were being executed. Indeed, those conversations no doubt contributed to the erroneous turns.)
Without violating the confidences of this intimate gathering, suffice it to say that topics covered included personal updates and vignettes, lessons learned, the meaning of legacy and leadership, advice on staying healthy and physically fit (e.g., get a dog if you don't have one to encourage long, daily walks), and, of course, the State of the World Now and in the Days to Come. The mix of those who saw the glass half empty versus half full seemed well-balanced. Nonetheless, regardless of one's perspective, there was wide commitment to continue to try to make a difference in the world, and to continue in pursuit of our careers and our thirst for learning, whether fully employed or semi-retired. There were many examples of personal engagement, none perhaps more visible than Congressman Tom Allen's bid for a U.S. Senate seat from his home state of Maine.
Following a fascinating tour of the Mount Auburn Cemetery grounds in the afternoon, our group reappeared, with spouses and partners, for dinner and a witty evening of political comedy, courtesy of one Jimmy Tingle at his comedy club in Somerville . I would recommend his act to all except that his show subsequently had to shut down, presaging perhaps the current strikes of Hollywood writers and Broadway stage hands. It's sad, because the need for good satire surrounding the 2008 presidential campaign has never been greater. After the show, a number of our group reassembled again at Fredrickson's, where conversation for some dipped into the wee hours.
Sunday morning brought delicious brunch at the home of Tad and Peggy Campion in Brookline. One of the highlights of this occasion, as elsewhere during the weekend, was the down-home Kentucky bluegrass music of classmate John Harrod and Tona Barkley, whose fiddling and strumming, respectively, added further sounds of delight to the weekend.
In small groups and one by one, we said reluctant goodbyes and resolved to meet again in three years (2010), not five. This had nothing to do with the passage of time and everything with the depth and quality of the relationships renewed. Yes, a very, very good time was had by all.
Respectfully submitted,
John Alexander
November 2007
All the pictures are available at http://picasaweb.google.com/alexander779/RhodesReunion?authkey=Ke6AOTT-1S4