Alain Locke Centenary Program
Celebrating the Life and Legacy of the first black American Rhodes Scholar
Announcement: 2007 marks the hundredth anniversary of the matriculation of the first black American Rhodes Scholar, Alain LeRoy Locke. Upon departing Oxford, Dr. Locke went on to be a chief exponent of the Harlem Renaissance and Chaired the Philosophy Department at Howard University for 30 years. AARS invites all AARS members to a symposium to recognize and honor Dr. Locke's life and work. The event is being held in conjunction with Howard University on its campus in Washington, D.C. For information or RSVP, contact Joyce Knight at 866-746-0283 or by email at jknight@americanrhodes.org.
Report: Over 200 participated in the Alain Locke Centenary Program. Kweli Washington opened the program with an overview and introductions.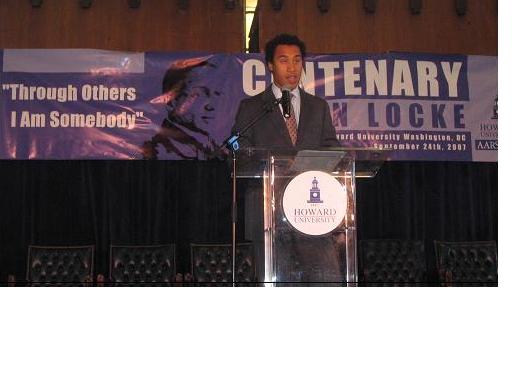 Jack Zoeller, Treasurer, AARS and Visiting Research Professor at George Washington University, delivered an excellent speech drawing from his article, Alain Locke at Oxford: Race and the Rhodes Scholarship, in the Spring 2007 issue of The American Oxonian.
The keynote speech was delivered by Dr. Leonard Harris, professor of philosophy at Purdue University. Other panelists included Dr. Christopher Buck, visiting professor at Michigan State and an expert on the Baha'i faith, Jack Zoeller, and Professor Patrick Goodin, Chairman and Associate Professor of Philosophy at Howard University.
Following the program, AARS hosted over 100 attendees including the 2007 Scholars for lunch and conversation.